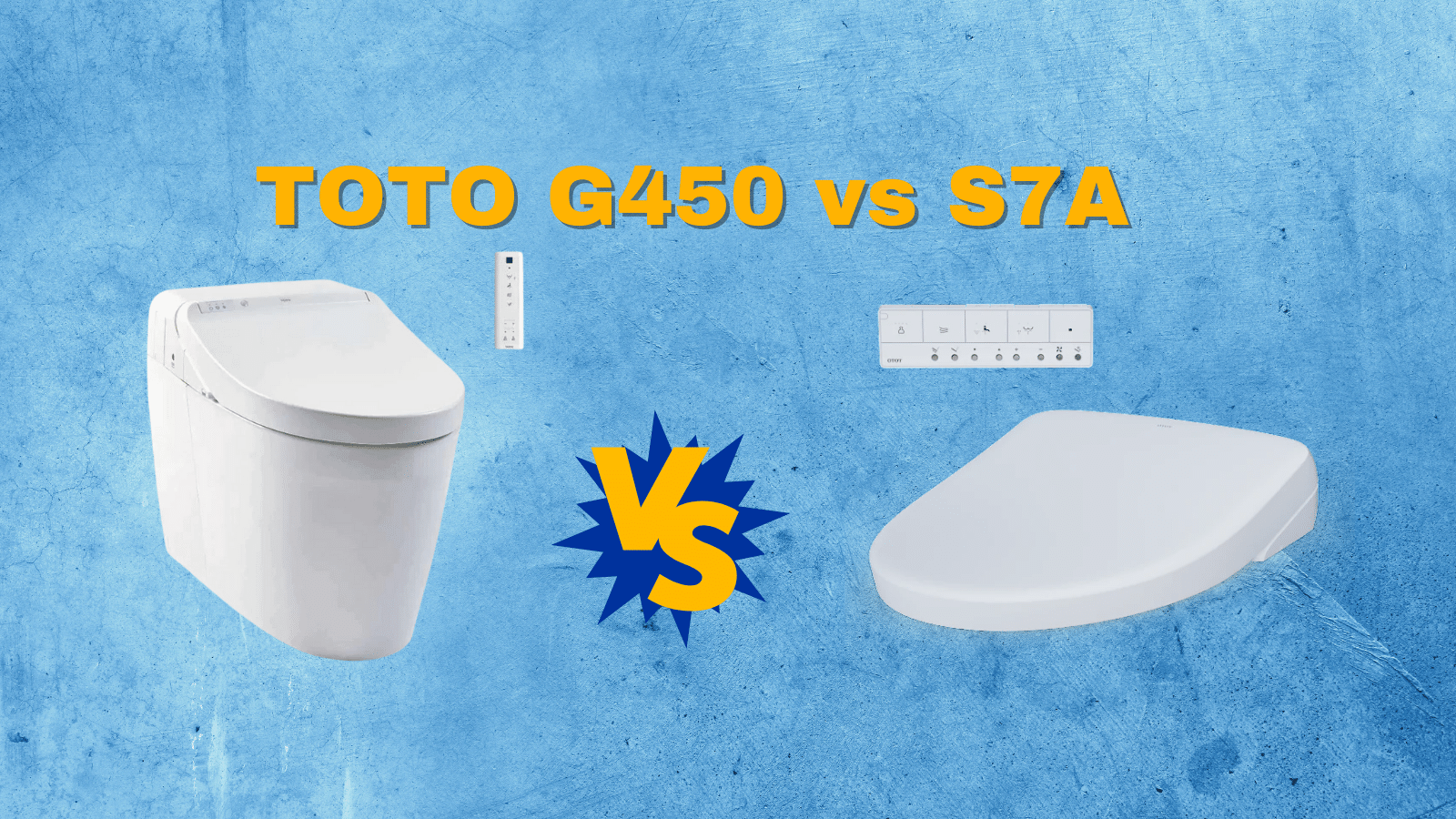 TOTO G450 vs S7A Washlet: Which One is Right For You?
Are you looking for a new bidet toilet but aren't sure whether to look into an all-in-one unit or add a Washlet to a traditional toilet?
Our guide to the TOTO Washlet G450 Integrated Bidet Toilet vs the TOTO S7A Washlet will help you decide.  
TOTO G450 vs S7A
The TOTO Washlet G450 is the most affordable option when looking at other Neorest bidet toilets. Although TOTO confuses things by calling this a "Washlet," when it really is more in line with its other smart bidet toilets. 
The TOTO Washlet S7A on the other hand, is the most expensive of the line of bidet seats that bear the name Washlet. It's also considered the new "best bidet money can buy" after replacing the discontinued TOTO Washlet S550e this year.
So how do these two popular products compare to each other? Read on to find out in our complete guide to the TOTO G450 vs S7A.
TOTO G450 vs Neorest
As we mentioned earlier, this can be a confusing topic.
Why doesn't TOTO just call the G450 Washlet a Neorest? We honestly don't know. 
On its website, TOTO calls it an "Integrated Smart Toilet" which is exactly what it is. 
For those that don't know, TOTO calls a bidet seat a Washlet and an Integrated Bidet Toilet a Neorest.
So there really is no difference here as far as classification goes. The TOTO G450 toilet is essentially a smart Neorest bidet toilet, even though TOTO technically refers to it as a Washlet in the product title.  
TOTO G450 vs S7A - Differences
So what are these two products and how are they different? 
Well, we've already extensively covered the fact that the G450 TOTO is a smart Neorest-style toilet and the S7A Washlet is a bidet seat. So right off the bat there is a fundamental difference. 
What we'll get into are the cleaning functions of each and how they compare to each other. 
The main areas where these products differ are:
Self-Cleaning
Auto-Flush
User Presets
Color options
Price
Installation
We'll go into more detail about each of these and explain what all of them have to offer. 
EWATER 
One of the only cleaning feature differences between these two is the extra EWATER rinse that the TOTO S7A gets underneath the seat. This is a new, upgraded feature from the S550e Washlet. 
EWATER is electrolyzed water that has a lower PH and is very effective with cleaning surfaces without the use of harsh chemicals. It's safe to touch and is used in food production plants as well.  
Both the TOTO G450 and the S7A Washlet use EWATER to clean the toilet bowl and bidet wand, but the Washlet S7A gets an extra rinse on the underside of the seat that the TOTO G450 doesn't have. 
Auto-Flush
Have you ever wished there was a toilet that could flush itself? With TOTO's line of smart bidet toilets, that dream becomes a reality. 
The Washlet G450 has the Auto-flush feature included, as do all the other Neorest models.  
While the TOTO S7A is auto-flush compatible, unless it's ordered as part of a Washlet+ combo, an auto-flush kit is not automatically included. 
So while you can definitely still have the auto-flush feature with the TOTO S7A, it just doesn't always come with it. 
As far as overall TOTO Washlet compatibility and auto-flush is concerned, the only Washlets that are able to use this feature are the TOTO S7 and S7A.
Now, if you were to order something like the TOTO Nexus Washlet + S7A, then the auto-flush kit is included with that SKU and you're good to go. 
Because the TOTO S7A is replacing the Washlet S550e, there are new auto-flush kits that you'll need to be aware of. For all the new auto-flush kits that are only compatible with the S7 and S7A Washlets, click here. 
User Presets
The brand new TOTO Washlet S7A has a newly upgraded remote control that allows for up to four user's memory settings to be stored. That means that multiple household members can store their own personalized settings or you could even have different settings for the different seasons. 
The G450 Washlet allows for users to store their settings as well, but only offers the standard two user presets found in other Neorest models like the TOTO RH and Neorest AH models. 
Color Options
If you're looking for a bidet product in a color other than cotton white, the TOTO Washlet S7A in Sedona Beige might be the deciding factor here.
You can pair the Sedona beige S7A Washlet with a compatible sedona beige TOTO toilet.
While the TOTO Washlet G450 is only available in white, there are some other Neorest options in sedona beige like the Neorest RH and Neorest AH. 
These Neorest models in sedona beige are being discontinued though, so they will only be available as supplies last.
TOTO G450 vs S7A Price
Because these two products are fundamentally different, there is a difference in price to consider. 
With the Washlet G450 Integrated Smart Toilet, you're getting an entire bathroom fixture. Whereas with the TOTO S7A, you're just purchasing a bidet seat that will replace your current toilet seat. 
Which one do you think is more expensive?
For the most current TOTO G450 Washlet price, click here. For an up to date price on the Washlet S7A you can click here.
TOTO G450 Installation
Because you are getting an entire toilet, the installation for the Washlet G450 is going to be more involved than with the TOTO S7A which just replaces your toilet seat. 
The TOTO G450 manuals for use and installation are included below:
Neither are overly complicated to install, but there are more dimensions and specifications to consider with the TOTO G450. Comparing the TOTO G450 specs vs S7A specs is important here when considering which one to buy. 
The product specification sheets for each are included below:
TOTO S7A vs Washlet G450 - Similarities
Besides those differences, the main bidet cleaning functions of both the Washlet S7A and TOTO G450 are basically the same. 
The main cleaning and convenience features that both products share include: 
Auto open/close lid

Heated seat

Instant/unlimited warm water 

Premist of bowl before use

Auto-flush (the S7A is auto-flush compatible but it's not included)

Air deodorizer

Adjustable spray position

Oscillating/pulsating massage wash modes

Warm air dryer
Other TOTO Washlets vs S7A
Now that we're talking about the new TOTO S7A Washlet, you might be wondering how it compares to previous models and others currently on the market. 
As we mentioned earlier, the Washlet S7A is replacing the TOTO S550e Washlet. If you'd like to learn more about the differences between those two products, you can read our article about that here. 
Also being discontinued is the TOTO Washlet S500e, which is being replaced by the TOTO S7 Washlet. 
The differences between the TOTO S550e vs S500e are the same as the differences between the TOTO S7 and S7A, which is mainly the auto-open close lid feature. 
For an entire article about the differences between the TOTO S7 and S7A (which also includes the differences between the S550e and S500e) click here. 
If you'd like to learn about how the new TOTO Washlet S7A is different from the popular TOTO C5 Washlet, we have an article about that here. 
For the differences between the TOTO Washlet K300 and the S7A Washlet, we have an entire article about that here. 
TOTO Washlet G450 vs S7A Washlet In Review
If you're considering purchasing one of these top-of-the-line bidet products from TOTO there are a few things to consider. 
The main ones we've highlighted are: 
Whether you're looking for an entire bidet toilet or just a bidet seat
Price you're willing to pay
Cleaning and convenience feature you're looking for
The TOTO G450 and S7A Washlet share all of the main cleaning and comfort features people are typically looking for in an electric bidet.
If the extra user presets and self-cleaning EWATER under the seat are important to you and you're looking for an entire bidet toilet combination, then you might want to consider one of the many Washlet+ S7A options available.  
If you prefer the look and design of an integrated bidet toilet and don't want to deal with separate components, then the TOTO Washlet G450 might be the right choice for you. 
Check back soon for an official TOTO Washlet 450 review, where we'll go into even more detail about this mysteriously named integrated bidet toilet. 
In case you're wondering about the TOTO G400, this one has been discontinued. We'll have some information about how the TOTO G400 and how the G450 are different. 
We hope this guide to the TOTO G450 vs S7A has been helpful. Let us know in the comments if you have any questions and if you prefer one of the models over the other, we want to hear from you. 
Give us a call! 
707-297-3991
We'd love to help you find the right bidet option for your home or business. 
Stay clean and have a great bidet.