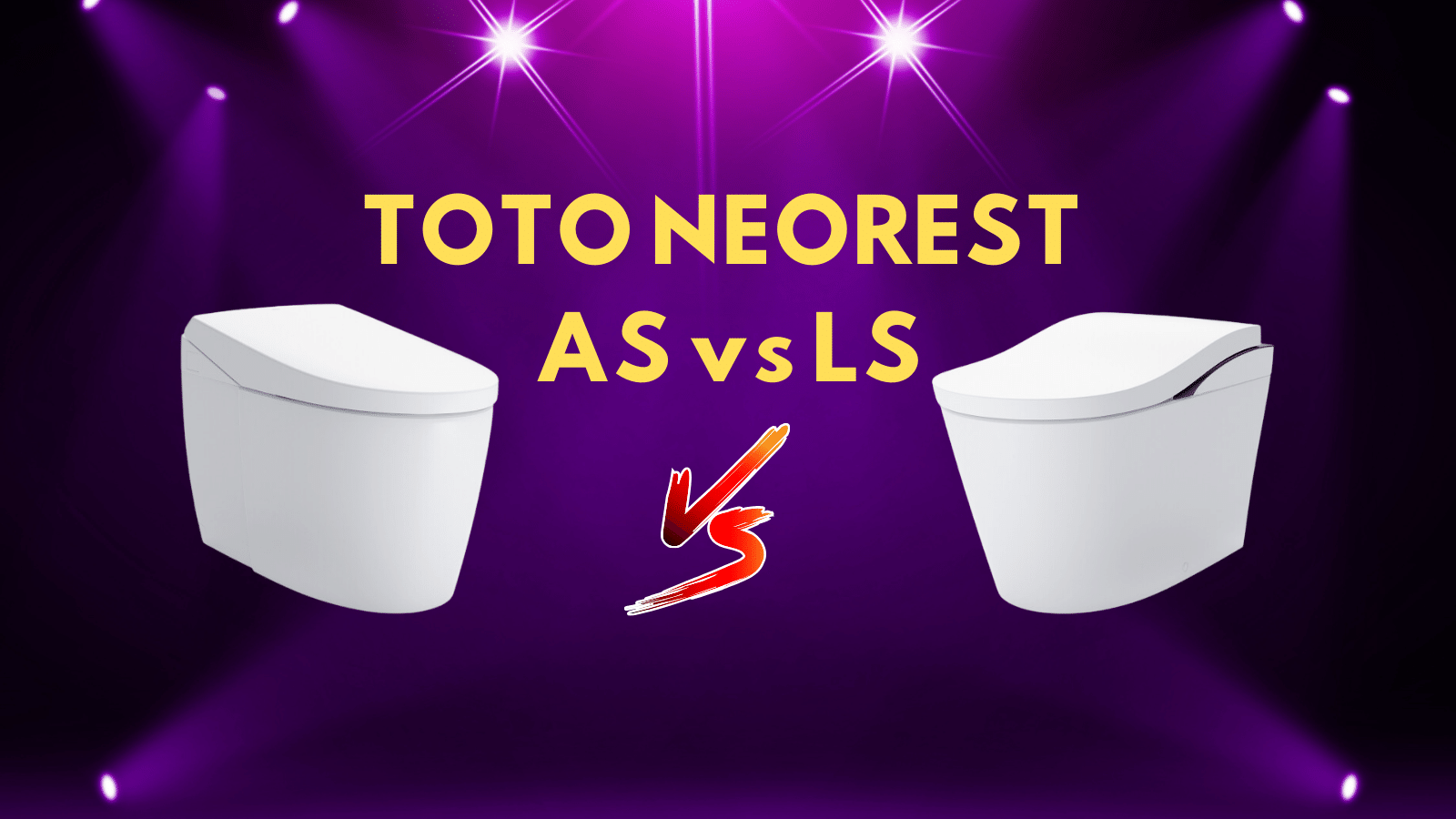 TOTO Neorest AS vs LS: The Differences Explained
TOTO Neorest bidet toilets are celebrating their 30th anniversary this year with a rollout of brand new models. It was announced in June that several of their popular Neorest models were being discontinued and replaced with upgraded ones. 
Two such models being replaced are the TOTO Neorest AH and Neorest 700H.
In their place are the brand new TOTO Neorest AS
and the TOTO Neorest LS.
So what's the difference between these two upgraded models? How do they compare to the ones they're replacing? 
We'll answer all your questions in our guide to the TOTO Neorest AS vs LS. 
TOTO Neorest vs Washlet
Just to get some basic terminology out of the way, let's talk about the differences between a TOTO Neorest and a TOTO Washlet. 
What TOTO calls a Washlet is actually just an electric bidet seat, which would replace a traditional toilet seat.
Neorest is TOTO's term for a smart bidet toilet, which is an entire toilet fixture with a built-in bidet, that would replace a traditional toilet.
Both share many of the same cleaning and convenience features, but they are fundamentally different kinds of products. A Neorest TOTO toilet is much more expensive than a Washlet because it's an entire toilet and bidet all-in-one. 
New Neorest vs Old 
As we said up top, The Neorest AS is replacing the Neorest AH and the Neorest LS is replacing the Neorest 700H. 
So what's different about these new models? 
The main upgrades you need to know about are:
Extra EWATER
Seamless seat
4 User presets
EWATER
TOTO Neorest and Washlet models use electrolyzed water, or what TOTO calls EWATER, as a natural cleaning agent. The lower PH of the electrolyzed EWATER is able to clean the wand and bowl without using harsh chemicals or a lot of scrubbing. 
On the new Neorest models (except for the Neorest RS) this self cleaning EWATER feature is applied underneath the seat as well. 
Seamless Seat
Another upgrade found on the new TOTO Neorest toilets is a seamless seat. TOTO has eliminated a gap that was previously found on the older Neorest models. 
This gap allowed dirt and grime to collect and it's now no longer a concern. All of the new Neorests have a seamless seat, in addition to the new TOTO S7 and S7A Washlets.
Four user memory settings
Now instead of just a measly two, your household can save up to four of their own personal memory settings on the new Neorest remote control.
Often someone in your home will have different preferences as far as heated seat, water or air dryer temperature's concerned. Now you won't have to fight over or change these specifications every time you use the bathroom.   
Those are the major upgrades across all three new Neorest models (Neorest LS, Neorest AS, Neorest RS). 
Now that we have that out of the way, let's discuss what's different about the TOTO Neorest AS vs Neorest LS and help you find the best smart bidet toilet for you. 
Neorest AS vs LS - Differences 
While there are some differences, you should know that these two Neorest toilets are very similar when looking at certain areas.. 
Unlike the Neorest RS, which lacks additional EWATER underneath the seat, the Neorest LS and TOTO AS are identical as far as cleaning features go.
That being said, there are three distinct areas where these two new TOTO Neorest toilets do differ:
Design
Dimensions
Price
We'll go into each of three categories in more detail so that you can make the best decision for your home or business. 
Design
What immediately sets the TOTO Neorest LS vs AS apart is the appearance. 
The Neorest LS toilet lid has some slight waves and smooth curves.
The Neorest AS on the other hand, is a bit more angular and utilitarian. 
The bowls on each Neorest are different as well, where the Neorest AS bowl is a bit straight and tight and the Neorest LS angles out more where it meets the seat. 
Color options
Another design difference between these two models is the ability to have different trim and remote control color options. These color options are only available for the Neorest LS. 
The TOTO Neorest LS has three color options:
The silver color option comes standard and the black and nickel are a step up price-wise, but we'll get to price later.  
TOTO Neorest Dimensions
This is an area where you will want to make some careful considerations. The dimensions are important, not just for knowing how these Neorest toilets will fit in your home, but also for your seated comfort. 
The seat area on the Neorest LS is both wider and longer.
Neorest LS seat area:
The seat area on the Neorest AS is a bit shorter and thinner than the TOTO LS. 
Neorest AS seat area: 
That may not seem like a lot when you first look at those numbers, but when you're sitting down and using the seat everyday, every inch counts. 
If you'd like to look at the dimensions of each toilet, the TOTO LS Neorest spec sheet is here. For the Neorest AS spec sheet, click here. 
In case you have any questions about how to install a TOTO Neorest toilet or about TOTO Neorest electrical requirements, here's some TOTO Neorest manual info:
Price
The various design and dimension differences all lead us up to consider price, as this is another important area of difference. 
While not wildly different in price, the TOTO LS is more expensive than the Neorest AS. The main reason for this is because of the additional seat room found on the Neorest LS vs AS. 
This is actually the main difference between all of the new Neorest models. The TOTO RS is the smallest and slimmest and costs the least, where the Neorest LS is a larger unit with a more comfortable sitting area. 
If you're a larger person, then you're probably going to want the additional seat area that the Neorest LS provides. If you're more on the petite side and you like the look of the Neorest AS or RS, then those models might be the right choice for you. 
That's not to say that the Neorest LS is only for larger users or that the Neorest RS and AS aren't comfortable to sit on. The additional seat area would work out well for anyone, but especially if you know you need a few extra inches here and there.   
For the most up to date TOTO Neorest price for the LS, click here. For an up to date price on the Neorest AS, click here. 
Neorest AS vs LS - Similarities
As mentioned earlier, the TOTO LS and Neorest AS share many of the same cleaning and convenience features. In fact when it comes to cleaning, these two products are identical. 
Some of the main features that these two smart bidet toilets share include: 
Heated seat

: With adjustable temperature settings, especially perfect for those chilly nights.

Auto open/close lid

: The toilet lid opens and closes automatically for better hygiene.

Adjustable pressure and temp

: Choose from different spray patterns, control water temperature, and adjust pressure for your ideal cleanse.

Instant/unlimited warm water

: Experience continuous warm water, so you never have to wait.

Adjustable warm air dryer

: reducing the need for toilet paper.

Automatic air deodorizer

: Keeps the bathroom smelling fresh.

User-Friendly Control

: Easily manage all features with a multifunction remote control.

Four user memory settings

: Save preferences with personalized settings for up to four users.

Night light

: Provides visibility, reducing nighttime mishaps.

Environmentally Friendly

: With energy-saving settings and high-efficiency flush options, you're both saving money and being kind to the planet.

TORNADO FLUSH

: Experience thorough cleaning and save water with dual flush functionality.

Auto-Flush

: The toilet flushes automatically and there's a manual backup option for power outages.

PREMIST

: Mists the bowl before and after use

CEFIONTECT ceramic glaze

: Prevents waste from sticking

Seamless seat design

: Makes maintenance a breeze by eliminating a dirt-collecting gap.

EWATER+

: Auto-cleans the wand, bowl, and under-seat after every use.

ADA compliant

: Designed to be the right height for all users and compliant with ADA standards.
TOTO Neorest Review
Now let's look at some of the other TOTO Neorest models that are being replaced and the differences between those and the newer models. 
As we mentioned earlier, the TOTO Neorest 700H and Neorest AH are both being discontinued and replaced by the two new Neorest models we just got done comparing above. 
The Neorest RH is also being discontinued and replaced by the TOTO Neorest RS.
The main differences between the Neorest RH and Neorest 700H are very similar to the differences between the Neorest RS and Neorest LS. 
For an article dedicated to what's different about the Neorest RS and Neorest LS, click here.   
If you'd like to read our official TOTO Neorest LS review, you can do so here. If you're interested in reading a review about the Neorest 700H, we have that for you here. 
If you're wondering about the differences between the Neorest AH and Neorest RH, we think that our article about the differences between the newer models that are replacing the older models would be more helpful. 
To read our article about the differences between the TOTO Neorest AS and Neorest RS, click here. 
Another TOTO Neorest model that's getting an upgrade that we haven't mentioned yet is the Neorest NX1. This top-tier bidet toilet isn't getting discontinued, but some new features have been added. 
For an article detailing what's different about the new TOTO Neorest NX1, you can read more here. 
Conclusion
We hope that our guide to the differences between the TOTO Neorest AS vs LS has been helpful. 
Let us know in the comments if there was anything else we haven't answered for you and we'll make sure we do that. 
If you want to reach out directly, give us a call!
707-297-3991