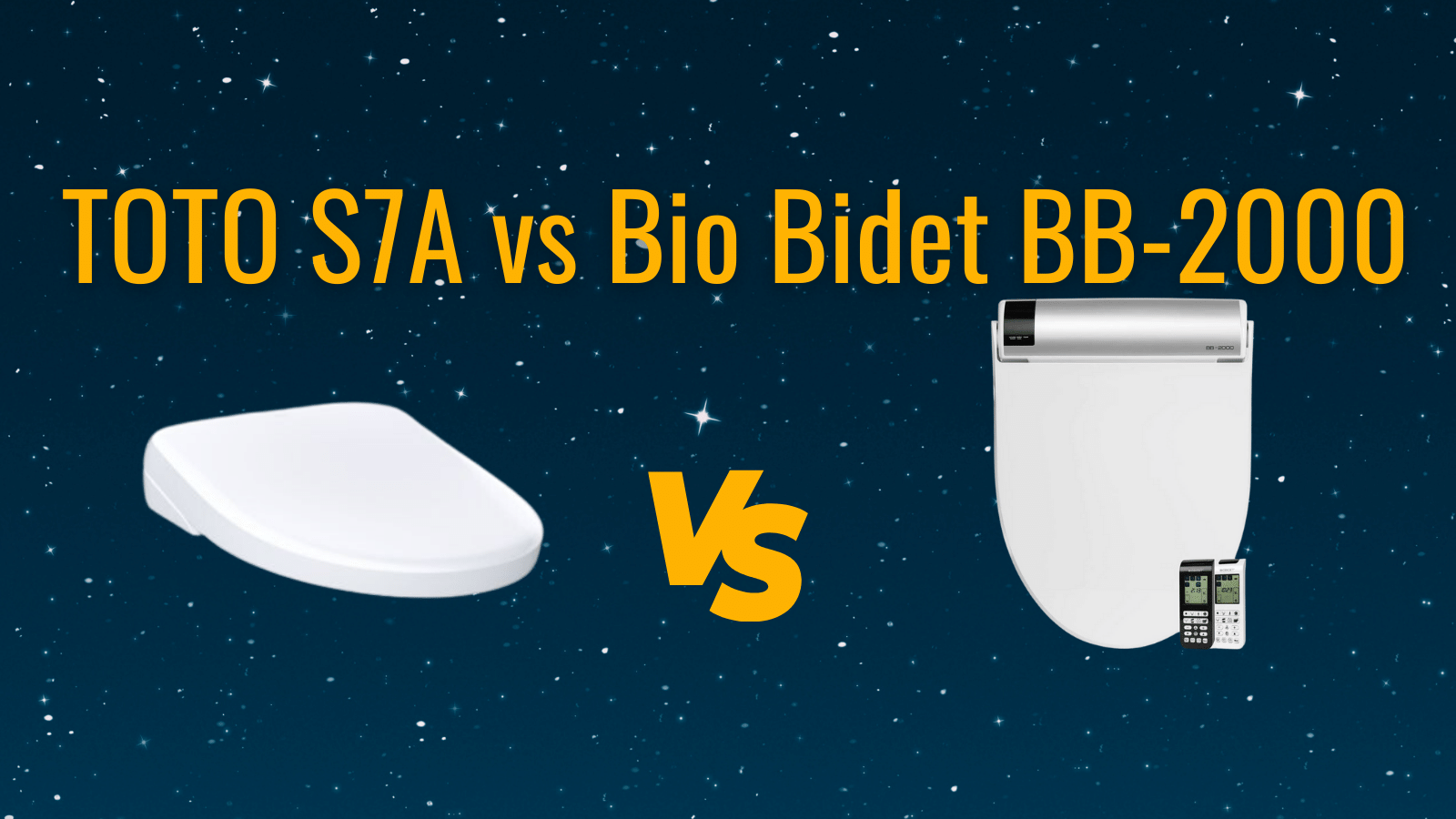 TOTO S7A vs Bio Bidet BB-2000 - Bidet Seat Comparison
TOTO announced in June of 2023 that it would be discontinuing the fan favorite S550e Washlet and replacing it with the brand new upgraded TOTO S7A Washlet.
This new "best bidet seat money can buy" is now the most state-of-the-art TOTO bidet seat on the market. 
The BB-2000 from Bio Bidet is another very popular bidet seat due to its variety of high quality features and very affordable price. 
Learn about all the differences between these two models in our guide to the TOTO S7A vs Bio Bidet BB-2000
TOTO Washlet S7A vs Bio Bidet BB-2000
For this article we'll be comparing the TOTO S7A Washlet vs the Bio Bidet BB-2000 Bliss bidet seat. For an article comparing TOTO and Bio Bidet as companies and the TOTO Washlet vs Bio Bidet bidet seats in general, click here.  
As mentioned earlier, the TOTO S550e is being discontinued and replaced with the S7A Washlet. When comparing the differences between these two bidet seats, keep in mind it's much like comparing the TOTO S550e vs Bio Bidet BB 2000. 
To learn more about the differences between the TOTO Washlet S7A and the S550e Washlet, you can click here.
The brand new S7A Washlet from TOTO does have a number of advantages over the BB-2000 Bliss, as it's a newly revamped product vs one that's been around a few years now.
That's not to say the BB-2000 can't hold its own though. This luxury bidet seat from Bio Bidet still offers a surprising number of features and value for its price. 
Let's start off with the main areas of difference between these two units. 
The TOTO S7A and BB-2000 differ in seven main ways: 
Price
Seat height
Components 
Water heater type
Features
Wash pressure
Warranty
Let's get into each of these in more detail so you can find out which category is more important to you.
TOTO Washlet S7A vs BB-2000 - Price
Price is a pretty obvious difference between these two popular bidet seats. With the TOTO S7A being the most feature rich on the market, it definitely commands a much higher price than the BB-2000 from Bio Bidet. 
For the most up to date price on the TOTO S7A, click here. And for the latest price on the BB-2000 Bliss, click here. 
Seat Height
Another important area in which these two models differ is seat height and general dimensions. The TOTO S7A is one of the sleekest seats on the market with a rear height of only 4.06". 
The Bio Bidet BB-2000 round size however is 5.71" in the back and elongated is 6" tall, so about a full two inches higher than the TOTO S7A. This can result in a less comfortable seating experience as the bulk in the back tends to push the user forward slightly. 
The reason the BB-2000 has a taller, bulkier back area is because of the type of water heater that it uses. 
Bidet Water Heater
This is one of the main areas where the TOTO S7A and Bio Bidet BB-2000 Bliss differ. 
The BB-2000 has a hybrid water heating system, which means that it uses both a tank water heater and also has an inline heating element to supply unlimited warm water while it's being used.
This system is much better than other electric bidets with just a normal tank water heater, which has a finite amount of warm water available. While the hybrid tank set up is better than just a standard tank heater, it's still not ideal.  
The TOTO S7A on the other hand, has a tankless in-line water heater that supplies instant, unlimited warm water from the very start and never runs out. Because of the inherent nature of a tank water heater taking up space, the S7A Washlet is able to be much sleeker overall. 
When people wonder why the TOTO S7A is much more expensive than the Bio Bidet BB-2000, this is one of the main reasons.
In order to have a seat as slim as comfortable to sit on as the TOTO S7A Washlet, you'd need an instant water heater and no tank, regardless of whether it's hybrid or not. 
For more information about warm water bidets and the difference between tank and tankless bidet seats, you can read our article about that here. 
Spray Nozzle
The spray nozzle on the BB-2000 is constructed of stainless steel and has a replaceable plastic tip on the end.
The TOTO S7A Washlet's bidet spray nozzle on the other hand, is composed of high quality antimicrobial plastic.  
This is an area where the Bio Bidet BB-2000 definitely has the advantage. Plastic is obviously less durable and more sanitary than plastic, which can hide microbes in its more porous surface. 
Self Cleaning
The S7A Washlet uses EWATER to sterilize the wand, spray nozzle, toilet bowl and under the bidet seat before and after each use.
EWATER is electrolyzed water that has a lower PH than normal water and is a very effective cleaning agent. 
The Bio Bidet BB-2000 has a self cleaning feature but rinses the nozzle with regular water only before each use. The self cleaning feature for the BB-2000 only extends to the nozzle and not the toilet bowl or under the seat like the TOTO S7A. 
With the use of EWATER there shouldn't be any real concern over cleanliness. As far as germs are concerned though, stainless is always better. 
Remote Control 
The remote control for the BB-2000 vs TOTO S7A has some differences worth noting as well. Both come with wireless remote controls, but since the S7A Washlet is brand new, there are some upgraded features that the BB-2000 lacks. 
The TOTO S7A remote is pictured below:
Some of the features that the TOTO S7A remote has that the BB-2000 doesn't include:
4 user memory presets 

Touch sensitive functionality

Larger, easier to use buttons
The buttons on the TOTO Washlet S7A remote control are definitely larger and more user friendly than the ones found on the BB-2000. For those with impaired vision or a disability, the TOTO S7A might be a better fit. 
The Bio Bidet BB-2000 on the other hand does have an "Auto" clean mode. This enables for a one-touch wash and dry feature, which the S7A Washlet does not have. 
You can check out the Bio Bidet BB-2000 remote control here:
Spray Pressure
While both the TOTO S7A Washlet and the Bio Bidet BB-2000 have excellent spray pressure, the BB-2000 has the advantage here.
With max rear and front spray pressure of 0.185 GPM, the BB-2000 has possibly the strongest spray pressure of any bidet seat on the market. 
The S7A Washlet has a max front and rear spray pressure of 0.11 GPM in comparison. Still ample by any means but not as strong as the BB-2000. 
To recap, here's the max spray pressure for each model: 
BB-2000 Max Spray Pressure : 0.185 GPM
TOTO S7A Max Spray Pressure : 0.11 GPM 
Enema Wash
While we're comparing spray pressure between the BB-2000 vs TOTO S7A, we should mention that the BB-2000 also has an enema wash feature. Those suffering from constipation would benefit from this somewhat unique wash mode.
Enema wash sends a powerful stream of water into the user's lower intestine in an attempt to loosen stool and stimulate a stubborn bowel movement. It might seem intense but we can assure you that this does in fact work.
Just be sure that you're lined up properly!
The BB-2000 again has the advantage here with this feature as the TOTO S7A Washlet does not have this capability. For a list of all the bidet seats we carry with enema wash functionality, click here. 
Auto Flush Capability
Those interested in a bidet seat that also offers auto-flush will be happy to hear that the TOTO Washlet S7A has this capability, while the Bio Bidet BB-2000 does not.
Auto-Flush is a feature that enables a completely hands-off bathroom experience, along with the adjustable warm air dryer. 
Auto-flush uses a body sensor on the seat to detect when you've stood up and automatically flushes the toilet for you. This feature can also be used via the S7A Washlet remote control and can now be programed to flush only after the lid has been closed, an upgrade over the TOTO S550e.
A compatible auto-flush kit must be purchased and installed separately, or as part of a TOTO Washlet+ Combo. 
For more information about the new auto-flush kits for the TOTO S7A and which one will be compatible with your TOTO toilet, you can click here. 
Warranty
The last major category that differentiates the TOTO S7A vs BB-2000 is warranty coverage. 
The Washlet S7A comes with a one year limited warranty, whereas the BB-2000 comes with a 3 year full warranty. There's really no contest here as the Bio Bidet BB-2000 has the better warranty offer, hands down. 
TOTO however, is an industry leader in the bathroom and more specifically bidet category. You would be hard pressed to find a lot of unhappy TOTO bidet customers out there!
TOTO Washlet S7A vs BB-2000 Specs
For all the visual learners out there, we've provided a handy feature comparison chart for the TOTO S7A vs BB-2000. 
As you can tell from the chart, these two luxury class bidet seats differ in a variety of ways when comparing features and design.
If you want to compare these product's specifications in more detail, you can look at the TOTO Washlet S7A spec sheet here.
For a closer look at the Bio Bidet BB-2000 specification sheet and user manual, click here. 
Seat Options
If you're wondering if a Bio Bidet bidet seat or TOTO Washlet can be installed on any toilet, the short answer is no.
The TOTO S7A is only available in elongated size and won't fit round size toilets. 
The Bio Bidet BB-2000 is available in both elongated and round size, so those with round toilets would still be able to install the BB-2000.
Neither of these bidet seats will fit on a toilet with what's known as a "french curve," so please make sure your toilet is compatible first.
You can also read our bidet buyer's guide for more information about sizing and which bidet seat will fit your toilet. 
Bio Bidet BB-2000 vs TOTO Washlet S7A - Similarities
Now that we've discussed all the ways in which these two stellar bidet seats differ, let's talk about which attractive features both units share. 
Here's a breakdown of the all the features that the S7A Washlet and BB-2000 both have in common:
Adjustable Heated seat

Automatic Deodorizer

Adjustable warm air dryer

Nightlight 

Adjustable water temperature and pressure

Massage/pulse wash modes

Adjustable nozzle position

Front and rear wash modes

Self cleaning nozzle 

Energy saving mode

Wireless remote control
TOTO S7A Washlet vs Bio Bidet BB-2000 - In Conclusion
The S7A Washlet and BB-2000 from Bio Bidet are two of the top bidet seats on the market right now. Both companies have built reputable names for themselves in the industry and each have their own dedicated fan bases. 
When comparing these two bidet seats and the companies that produce them, what's ultimately going to make you decide which one is right for you comes down to one or more of the major categories of differences we've laid out for you. 
To recap, the main differences between the BB-2000 vs TOTO S7A are:
Water heating method
Seat height and sitting experience
Warranty offer
Features
Product composition
Spray pressure
Price
The last of those differences alone might cause some people to choose one over the other. 
What's key is understanding why one bidet seat costs more and being able to decide whether the differences in features and the experience of using it every day is worth the increased price tag. 
If you're not looking to spend over $1000 and you don't care about having the latest, greatest, best new product on the market, then the Bio Bidet BB-2000 could be the perfect choice for you. 
If price isn't as much of a consideration and you'd rather have the new "best bidet seat money can buy" than the choice is obvious. The TOTO S7A has all the bells and whistles and is the most technologically advanced bidet seat currently available. 
But you might still be wondering "Are TOTO bidets worth it?" For the answer to this question or to find out which TOTO bidet is best for you, give us a call!
707-297-3991
For more information and TOTO Washlet S7A vs BB2000 reviews, you can read our official review of the TOTO S7A right here.
Keep an eye out for an article detailing the differences between the TOTO Washlet vs Brondell Swash soon.
For more information about how the TOTO S7A Washlet compares to other models, you can find a number of articles here. 
We hope that our guide to the TOTO S7A vs Bio Bidet BB-2000 was helpful in clearing up all the differences between these two popular luxury bidet seats. Let us know in the comments if there's still something you'd like to know about these two bidet seats and we'll get it answered for you!
Take care and have a great bidet.