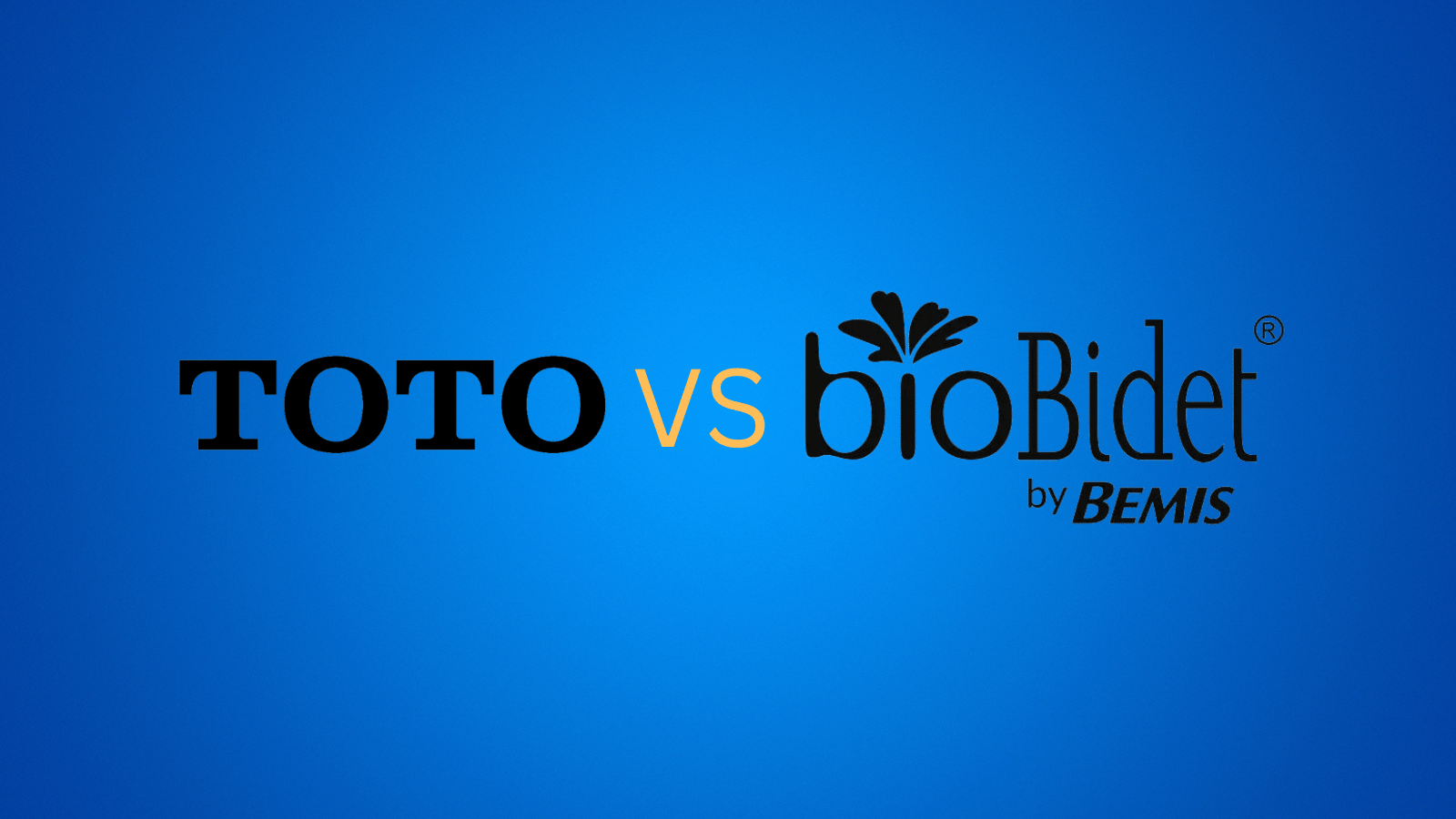 TOTO Washlet vs Bio Bidet - Which one is better?
So you've decided you want to feel more comfortable in the bathroom, improve your hygiene and start saving money on toilet paper, but which company should you buy a bidet from?
There are a few popular brands to choose from, with TOTO and Bio Bidet usually somewhere at the top of that list. Both companies have been in business for a while and have made great names for themselves in the industry, but there are a few key factors that set them apart from each other.
We'll help you decide once and for all, in the battle of TOTO vs Bio Bidet, which one is better?
TOTO Washlet vs Bio Bidet - Price
One of the main factors that sets these two companies apart is the cost of their products. While you don't always have to spend a ton of money to get a quality bidet toilet seat or smart toilet, sometimes the old adage "you get what you pay for" can ring true here. 
TOTO products by and large tend to be more expensive and they have a larger range of price options for their products.
For example, the most expensive Washlet (bidet toilet seat) TOTO sells is the S550e, which we sell for $1,361 and retails directly from TOTO for $1,944. The most expensive, high end bidet toilet seat from Bio Bidet is the Discovery DLS, which sells for $899. 
Both of these seats actually share most of the same main features, except the Discovery DLS from Bio Bidet offers UV sterilization, which the S550e from TOTO does not.
The DLS also comes with a full five year warranty compared to TOTO's one year manufacturer warranty, but we'll talk more about warranty later on. Both are sleek and high quality, but TOTO's S550e is widely regarded as the best bidet seat on the market today.  
The least expensive electric bidet seat from TOTO is the A2 Washlet which we sell for $349, whereas Bio Bidet has the Slim One and Slim Two electric bidet seats, both of which sell for under $300.
Overall, Bio Bidet offers a wider selection of bidet seats in the $200-400 price range than TOTO.  
Where price really starts to stand out is when you start comparing Integrated Bidet Toilets. TOTO's line of Neorest smart toilets can get pretty pricey when you look at the higher-end ones for sale. The most expensive of which can retail for more than $20,000!
The most expensive smart bidet toilet from Bio Bidet on the other hand is the Discovery DLX, which sells for $2,699. 
At the end of the day, all of those products essentially do the same thing and share most of the same features. After looking at price, what really starts separating TOTO vs Bio Bidet is the overall design quality.  
Design  
This is where comparing TOTO vs Bio Bidet gets a little clearer. Both companies sell high quality products, but TOTO does have an edge when it comes to appearance and quality of design.
For example, the Neorest line of toilets from TOTO has a cefiontect® ceramic glaze which coats the surface and doesn't allow any waste particulate or bacteria to cling, ensuring a cleaner, more hygienic environment.
Bio Bidet's smart toilets don't come with any comparable type of design feature, but their products definitely function at a high level and look great.   
TOTO's bidets and particularly their smart bidet toilets, just look fancier. The design elements are somewhat more sleek and give off a stylish, graceful appearance that can really elevate your bathroom's decor. 
So unless you're willing to spend top dollar on making your bathroom look super fancy as well as ultra hygienic, Bio Bidet might be the way to go.
The elegant curves and efficient use of space gives TOTO the edge here, but you will definitely pay more for that refined, tasteful appearance.
Warranty
Warranty offers are actually a main area in which these two companies differ quite a bit. Warranties can be important when it comes to bidets, as there are a number of electrical and mechanical components involved. 
Toto offers a 1-year limited warranty for all washlet units (bidet seats) and a 3-year limited warranty for Neorest smart bidet toilets. Limited warranty covers repairs or replacements due to manufacturer defects and does not cover wear and tear. 
Bio BIdet on the other hand, offers a more robust warranty program that includes a full five and three year, limited three year and limited one and two year warranties depending on the product. The more expensive the product is, the more comprehensive the warranty that is offered. 
Click here  to see all the warranty info from Bio Bidet.
In the case of TOTO vs Bio Bidet, there are some clear differences between the two brands. The pros and cons that appeal to you will be based on your own individual needs and preferences.
TOTO has built a big name in the bathroom fixture market and has a solid reputation for high end, quality offerings. Bio Bidet is one of the leading brands in the bidet industry and also has a great reputation.
Whether style, price or a five year full warranty are more important will be entirely up to you. 
We hope we've helped in your bidet buying decision and if you're considering one of those two brands and still have any questions, please give us a call at 707-297-3991.
You can also reach us at info@premierbidets.com and we'd be more than happy to assist you in any way that we can!