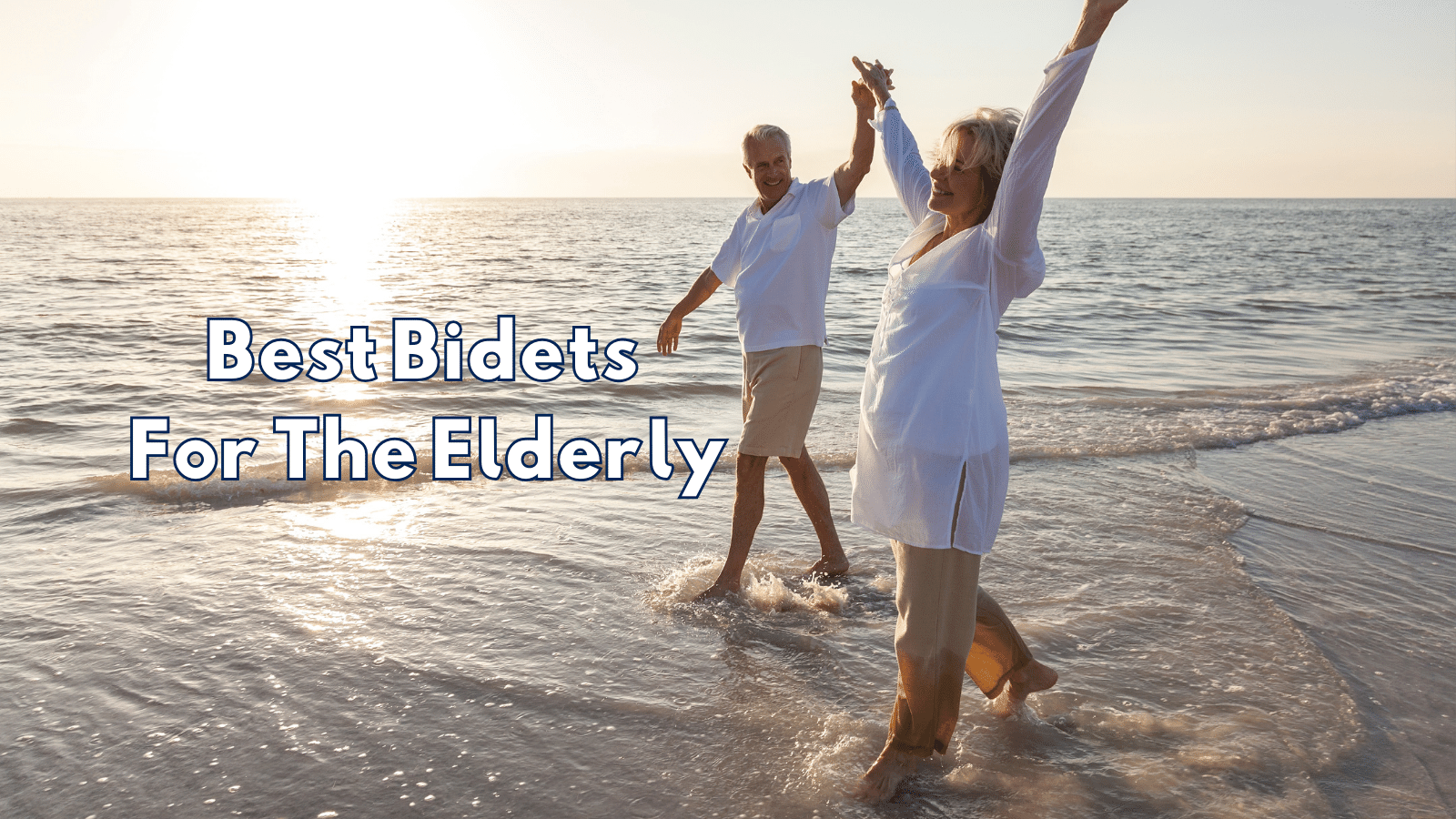 Best Bidets for Elderly in 2023
Aging doesn't mean you have to compromise your independence (or dignity). If you or a loved one has a desire to stay independent longer, a bidet might be among one of the best things to introduce to your home. 
An electric bidet seat can be life-changing for otherwise healthy seniors who just need a little extra help with their personal care.
Likewise for those living in assisted living facilities, having more self-sufficiency in their everyday routine can increase mental well-being. 
Our list of the best bidets for elderly in 2023 will explain how this simple product can greatly improve the lives of the elderly and caregivers alike. 
Read on to learn more about how bidets can benefit both people who would like to age in place and those in assisted living communities. Afterall, everyone deserves the dignity of being able to clean themselves properly after using the bathroom.
Benefits of Bidets For The Elderly
There are a number of reasons why bidets are so beneficial for the elderly. 
Bidets can help seniors who are experiencing:
Limited mobility due to stiffness, aches and pains
Injuries
Decreased eyesight
Hemorrhoids
Incontinence
Dementia
Using the bathroom can be uncomfortable for all these reasons and more. Bidets provide an easy way to overcome these challenges, all while letting seniors retain independence and privacy.  
Twisting and turning to access toilet paper or clean yourself can put an unnecessary (and potentially unsafe) strain on the body. Even a relatively small injury, like a shoulder tear, can greatly affect your ability to comfortably reach behind you. 
Electric bidets allow seniors to fully clean and dry themselves by eliminating the need to turn, twist, or reach. A simple touch of a button from a bidet remote or side control panel is a much safer option for those with limited mobility, eyesight or balance issues. 
Plus, as skin becomes more delicate over time—and hemorrhoids become more common—using dry paper to clean sensitive areas can cause further irritation.
Warm massage and pulse modes on bidet toilet seats help soothe inflamed skin, where breakdown and pressure sores are common. And gentle wash modes and warm air dryers on bidets improve hygiene compared to dry toilet paper.
While common in older adults, incontinence is still an embarrassing issue that requires thorough clean up to maintain healthy skin. A bidet for incontinence sufferers makes washing easier and faster in a safe and modest way, even between shower days. 
An overlooked reality is that independent bathroom use is extremely difficult for dementia patients. Caregivers cite hygiene concerns and overuse or misuse of toilet paper among the top reasons why they need to be supervised. 
Installing a bidet for dementia patients with remote control options makes it easy for caregivers to ensure that their patients are getting clean, and eliminates the need to keep toilet paper within reach.
Electric vs Non-Electric Bidets
While both electric and non-electric bidets offer the same basic function of washing with water, with electric you'll really be able to experience the wide range of features most beneficial to our country's aging population. 
These Include:
Warm water
Massage modes
Heated Seat
Warm Air Dryer
Deodorizer
Remote control   
Best Bidets For Elderly in 2023
First, it's important to understand how bidets work if you want to add one to your home or care facility. 
Bidet toilet seats replace your current toilet seat and simply hook up to your toilet's water source. An electric bidet seat also requires a nearby electrical outlet to plug into power.
While both electric and non-electric bidets are easy to install and offer the same main function, we focused on electric bidet seats as they have more features to benefit older adults. 
The best bidets for seniors offer warm water washing and automatic air drying that are not only more comfortable, but easier, safer, and more hygienic than traditional toilet paper.
Cascade 3000 Bidet Seat
Overall, our winner for best bidets for the elderly is the Cascade 3000.
The Cascade 3000 is an electric bidet seat that was specifically designed with the elderly in mind. If you're looking for a bidet for dementia patients, this would also be our top pick.
It features all the components that we see as essential to a great bidet:
Unlimited warm water on demand
Aerated wash stream for gentle yet effective cleanse
Sittable lid of up to 300 lbs
Single-button wash and dry mode
ADA compliant remote control 
This state-of-the art bidet seat comes with a large, easy-to-use ADA compliant remote that is convenient for users or caregivers to operate. 
Additional features include:
adjustable warm water washes
warm air dryer
automatic deodorizer
heated seat
sittable lid of up to 300 lbs 
self-sanitizing spray nozzles. 
TOTO S550E Bidet Seat
Coming in at number two on our list would have to be the S550E from TOTO. This popular bidet seat is widely regarded as the "best bidet seat money can buy" and is jam packed with every feature you could want. 
For those not on a budget, this is the ultimate in convenience and comfort. Some of the more notable features include:
5 bidet spray settings

Built-in air deodorizing system
Auto open/close feature
Night Light
Adjustable water and seat temperatures
Warm-air dryer
Easy-to-read illuminated remote control
Convenient magnetic wall mounted cradle
Compact and slim design
2-user personal memory settings
Self-Cleaning Water Wand
Instant and unlimited warm water washes
While the S550E does have the most features of any bidet seat on the market, there are some important things to consider.
Most TOTO Washlets only come with a 1 year limited warranty, where the Cascade 3000 has a full 4 year warranty
Much more expensive than most other bidet seats on the market
Bio Bidet BB-1000 Bidet Seat
If the TOTO S550E feels out of reach, consider the Bio Bidet Supreme BB-1000.
Our number three bidet is less expensive, so for those on a budget—or who are looking for a more entry-level seat—this is a great option.
It also has a remote and while not as large as the Cascade 3000's, it's still larger than most other bidets on the market.
It also features strong water pressure flow at .32 gpm, which allows for a thorough wash in a short period of time.
However, the BB-1000 lacks some of the features that make the Cascade 3000 our top pick. 
For starters, it has a tank water heating system, which means that it doesn't offer continuous, unlimited warm water washes. This can create a cold, unwelcome surprise.
It also lacks:
Nightlight
Sittable lid
One-button wash and dry modes
Plastic spray nozzles rather than stainless steel 
Still, the BB-1000 is definitely a high-quality seat. It's up to you to decide which features and specifications are most important to you and your needs. 
TOTO G450 Washlet
Coming in at number four is the TOTO G450 Washlet. 
Another option to consider when picking a bidet is the smart bidet toilet. TOTO's line of bidet toilets are known as Neorest. Although the G450 really is more of a Neorest than a Washlet, that's how TOTO describes it. 
Some of the standout features of this option include:
Auto flush
Auto open/close lid
ADA compliant
Built-in air purifying system
Heated seat with temperature control
WASHLET with three wash modes (front, rear, soft)
If you were looking to replace your current toilet, than this could be a great option. With Auto flush, adjustable air dryer and an auto open/close lid, the entire bathroom experience becomes hands-off. 
This is an even more expensive choice than the S550E, but you are getting an entire electric toilet and bidet all in one. It's also far less expensive than other TOTO Neorest models like the NX1.
The G450 is also fully ADA compliant, so if you are currently having any issues with mobility or always want to ensure you won't have problems using the bathroom independently, this is a great choice. 
Benefits for Staff in Assisted Living Communities
For many older adults living in care facilities, bathroom time is unpleasant. If you've ever had to rely on someone else for some of your most basic needs, you'll know that it can become a dreaded part of the day for everyone involved.
The loss of privacy associated with toilet assistance is one reason why seniors may not be getting as clean as they need to, and may be suffering as a result. 
Caregivers are then faced with greater challenges as hygiene worsens over time, or as residents become more reluctant to accept the help they need. 
A bidet can help change all of that.
Bidet toilet seats increase control and independence over intimate daily routines, and help relieve the responsibility of cleaning someone after they use the bathroom.
Plus, using water and a warm air dryer instead of toilet paper after every use vastly improves hygiene, which contributes to better health and well-being. 
The psychological benefits of once again being able to care for yourself in this way are hard to overstate. but these benefits aren't just limited to those receiving care.
The average turnover rate for staff in assisted living facilities remains much higher than other industries in the United States. Wiping and cleaning residents after using the bathroom is one of the most frequently mentioned sources of job dissatisfaction. 
Getting more electric bidet seats in senior living facilities could mean an increase in job satisfaction for caregivers and a decrease in turnover rate, all while providing a better quality of life for residents. 
Conclusion
The Cascade 3000 is our number one pic for best bidets for elderly in 2023 because it's specifically designed for seniors and features all the bells and whistles you could want, while still remaining very easy to use.
Bidet toilet seats offer increased hygiene, independence and safety in one of our most intimate daily routines. It's a win-win for everyone involved, not just for our cherished elders.
With more electric bidet seats in senior living facilities, we'd be able to cut down on turnover rate and increase job satisfaction, all while providing a better quality of life for residents.