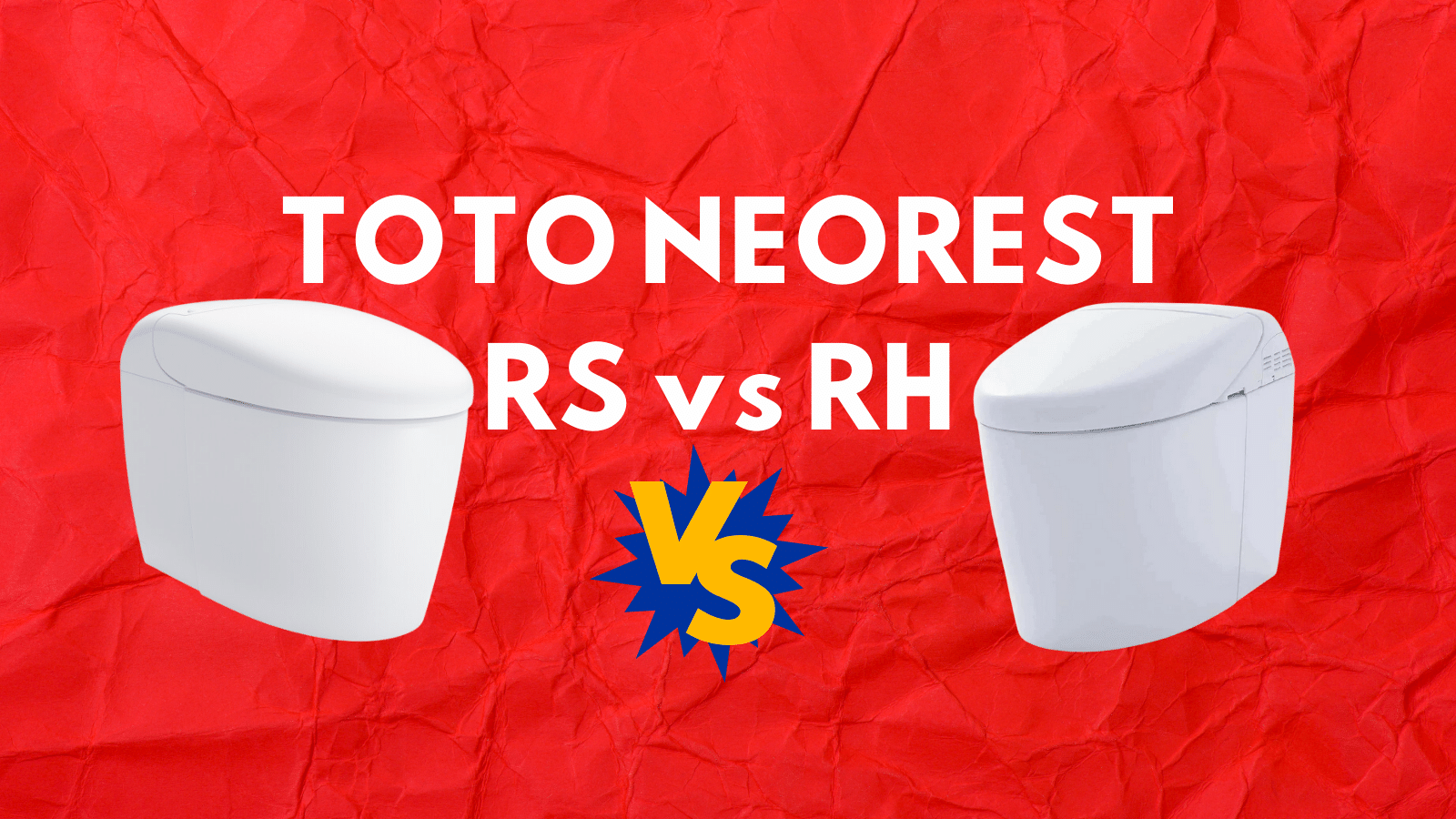 TOTO Neorest RS vs RH: Everything You Need to Know
Fans of the Neorest RH might be stunned to hear that TOTO has decided to discontinue this popular model. TOTO announced in June of 2023 that it would no longer be manufacturing or accepting orders for the RH past December 31 of that year.
The good news? TOTO also announced that an updated model, the TOTO Neorest RS, would be replacing the Neorest RH. 
What does that mean for you the consumer? We'll answer that question and everything else you'll need to know with our guide to the TOTO Neorest RS vs RH.
What is a Neorest?
First, we'll quickly get some TOTO terminology explained. Some people researching TOTO might be wondering what the differences are between a bidet seat and a Washlet and an integrated bidet toilet and a Neorest. 
The answer? Nothing. It's simply TOTO's proprietary terms for their products. A Washlet is an electronic bidet seat and a Neorest is what's also known as an integrated bidet toilet or smart bidet toilet. 
So if you're trying to decide between a TOTO Neorest vs Washlet, you'd just have to decide whether you want to keep your current toilet and just swap out the seat for a Washlet, or replace your entire toilet and get a fancy new state-of-the-art Neorest bidet toilet. 
Make sense?
TOTO Neorest RS vs RH
Alright, so now that we know what a Neorest is, let's dig into the new model and how it compares to the one it's replacing. Like we mentioned earlier, the TOTO RS is replacing the Neorest RH.
The new TOTO Neorest RS is pictured below:
Here are some of the main differences we've found: 
One color option  
Updated remote control
Seamless seat
Updated design
Higher seated height
We'll get into each of these in more detail so you can decide whether this is the best TOTO Neorest toilet for you.
No more sedona beige
When TOTO listed the new products and ones they were replacing, we were surprised to see that they were no longer offering the new model in a sedona beige color. Instead, there will just be one cotton white color available. This is a big factor when comparing the Neorest RS vs RH.
We can only speculate that this is because of lower demand and higher manufacturing costs for these product variants. As of this date, Premier Bidets still has access to the TOTO Neorest RH in Sedona Beige color. If you've been thinking about purchasing one to match your current bathroom decor, act fast!  
More remote control options
One interesting upgrade that we've found on the TOTO Neorest RS is the option of having four user presets. This is a step up from the Neorest RH where you were only able to have two. 
Now if you have multiple family members with different ideal settings like water pressure, water temperature, seat temperature, air dryer temperature etc. you can have those saved and ready for when you sit down. You could also have different settings for each season and adjust the temperature of the heated seat for warmer months. 
Seamless seat
One new innovation found on the Neorest RS is the seamless seat design. The TOTO RH and other Washlet models all had a seam underneath the seat where dirt and grime could collect. This area was hard to clean and was easy to ignore until there was significant build up. 
That problem is now solved with this thoughtful design modification. The Neorest LS and the new TOTO Washlet S7 and Washlet S7A all have this new design upgrade as well. You can learn more about the differences between the S7 and S7A here. 
New look
The new TOTO Neorest RS has a noticeably updated look and overall design. The same basic shape is there, but the way the components are attached is more subtle. There's a more sleek, modern aesthetic at work here. 
The shipping weight of the Neorest RS is also different coming in at 91 lbs where the Neorest RH is 80 lbs. We found this a little surprising given how much more sleek the RS vs RH looks. 
How do we say it just looks better without just saying it looks better? Any TOTO Neorest RH review would conclude the same.  
Higher seated height
The seated height of the Neorest RS is 17 11/16" where the TOTO RH seated height is 17 5/16". While this may not seem like a major design modification, if you or a loved one needs extra help in the bathroom this can make a difference. 
For a more detailed look you can check out the TOTO Neorest RS product specifications here. If you already have an RH, installing the RS will be the same as the TOTO Neorest RH installation. 
Here's a link to the Neorest RS installation manual.
These are some of the main features that the TOTO Neorest RS and Neorest RH both share:
Automatic open/close lid for a hands off experience

Adjustable front and rear wash

Air deodorizer to keep your bathroom smelling fresh

Heated seat to keep comfy on chilly mornings

Warm air dryer to reduce or eliminate the need for toilet paper

Night-Light to help guide you in the dark

Auto-flush by sensor or remote control 

ADA compliant for those with mobility or other special needs

Self cleaning with electrolyzed (EWATER) technology to avoid having to use harsh chemicals

Slick Cefiontect ceramic glaze that prevents waste from sticking to the bowl

1 GPF and 0.8 GPF efficient Tornado flushing technology for conserving water

PREMIST pre-rinses the bowl to help keep everything clean before you even use it
For our full official review of the TOTO Neorest RS, click here. 
TOTO Neorest price
If you're wondering about the current price of each of these models, you can click here for the Neorest RS and for the Neorest RH click here. While the TOTO RS is expensive as far as toilets go, it's nowhere near as expensive as a TOTO Neorest NX1 or Neorest NX2.
While we're talking about other Neorests and price, we should mention that the Neorest RS has all the same cleaning features as the TOTO Neorest 700H. The main differences between those two models is the quality of the components, where they're manufactured and price. 
BUT....the Neorest 700H is also being discontinued and being replaced by the TOTO Neorest LS. The Neorest 700H is pictured below.
We hope our guide to the differences between the Neorest RS vs Neorest RH was helpful. If you have any questions about these two units, don't hesitate to give us a call!
(707) 297-3991
We love to talk bidets and help people find the right products for their needs. You can also reach us by email from any of the following sources here.
Let us know in the comments below if there's anything you're still wondering about the Neorest RS vs RH and we'll get it answered for you.