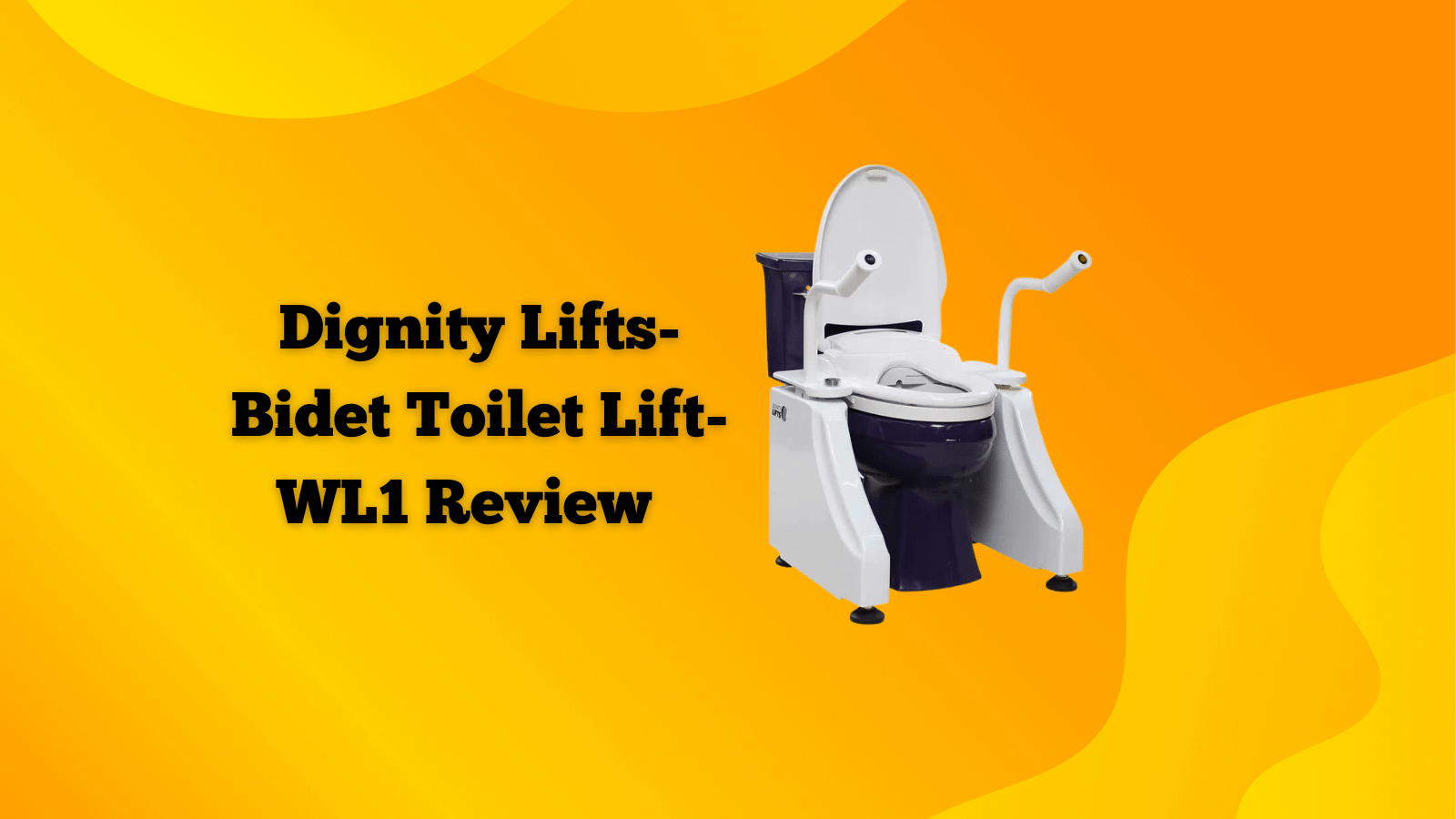 Dignity Lifts - Bidet Toilet Lift - WL1 Review 2023
For those seeking a solution to bathroom challenges like sitting, standing and cleaning up properly, there's no better option than the Bidet Toilet Lift-WL1 from Dignity Lifts. 
This all-in-one integrated electric bidet and toilet lift combo, has all the bells and whistles of a high quality bidet toilet seat combined with a hydraulic toilet seat lifter. 
If you're looking for Dignity Lifts reviews and seeking a toilet lift with a bidet attached, you've come to the right place. 
Read on for our official Dignity Lifts Bidet Toilet Lift-WL1 review.
Dignity Lifts
So who are Dignity Lifts? The company is based in Troy Michigan and has been in business since 1998. In addition to the WL1 Bidet Toilet Lift, they also manufacture a variety of toilet lifts, including the Deluxe Toilet Lift-DL1.
The Dignity Lifts WL1 is the only lifting toilet seat with electric bidet attached that we're aware of. Many toilet lifts don't even allow for a bidet to be used at the same time, so this product definitely solves that problem.
The Dignity Lifts WL1 Bidet Toilet Lift is essential if you're struggling with: 
Sitting down to use the toilet
Twisting and reaching to use toilet paper
Standing back up from using the toilet 
If you're wondering why it's important to have a bidet lift toilet seat combination, consider the challenges of someone who's already having trouble sitting and standing to use the toilet. Chances are, they're also finding it difficult to clean themselves properly after using the bathroom as well. 
Bidet Toilet Seat
A bidet toilet seat like the one found on the Dignity Lifts WL1 can dramatically improve hygiene and increase the ability to take care of yourself. The bidet on the WL1 is completely integrated and has a variety of helpful features that we'll highlight below. 
Top bidet features of the Dignity Lifts WL1 include:
Adjustable water temperature and pressure
Adjustable warm air dryer
Adjustable nozzle position
Front and back wash
Stainless steel spray nozzle
Heated seat
Warm air dryer
Automatic deodorizer
These are all premium electric bidet seat features. We're impressed that Dignity Lifts went above and beyond to ensure that all of these were included in this bidet toilet lift.
While you could just settle for a cold water wash, the comfort and convenience features of warm water and a heated seat will be greatly appreciated once you give them a try. 
Electricity
It should be noted that since this is an electric bidet toilet lift, plugging into an electrical outlet is required. Unlike the Dignity Lifts DL1 Deluxe Toilet Lift, which runs on a rechargeable battery, the WL1 needs to be plugged in at all times in order to function properly. 
The valves that allow water to flow through the bidet unit require electricity to open and close, so it won't work at all unless it's plugged in. It might be a good idea to have a nearby electrical outlet installed before installation, if there is not already one within four feet of the toilet. 
Warm Air Dryer
A warm air dryer will allow you to reduce or completely eliminate your reliance on toilet paper. If you're worried about twisting and turning to wipe and just allow the adjustable air dryer to do its thing, you'll enjoy a totally hands-free experience. 
Some people might expect a more powerful drying experience like on a bathroom hand dryer, but you wouldn't want that kind of force on a sensitive area (not to mention that it would not be very hygienic either). 
Bidet air dryers take a little more time to do the job, but they do work. You just need to sit for a few minutes and wait to dry properly. The adjustable warm air dryer on the WL1 Bidet Toilet Lift definitely works.  
The important thing to remember is that you'll be clean and you won't have to rely on dry, irritating paper to accomplish that. 
Front and Back Wash
Having a dedicated spray for feminine washing is a great feature to have in a bidet seat. You don't want the same type of pressure or spray pattern directed at this area as you would your back area, so it's nice to have some options with this. 
Front and back washing options are both adjusted with the easy-to-use remote control that comes included. Lift controls are found on the handlebars of the unit. 
You'll have full control over pressure and temperature whether you choose front or back wash. Being able to adjust the wash and dry temperature is crucial and the WL1 Dignity Lift toilet lift does that. 
Dignity Lifts WL1 Lift features
Now that we've gone over all of the important bidet features, let's get to the toilet lift part of the equation. 
Some features to note on the WL1 from Dignity Lifts include: 
14" of lift
4 feet wide sturdy design
Warning alarm and lift controls in handlebars
Versatile design works with most toilet setups
300lb weight capacity
Dignity Lifts Toilet Lift Review
The Dignity Lifts Bidet Toilet Lift will stand you up and sit you down for a full 14'' of lift. You can now regain your independence and dignity in the bathroom by being able to handle these important functions on your own.
Not having to rely on family members or paid staff will not only allow you autonomy in the bathroom, but in your own home as well. Many people that end up in assisted living do so because they're unable to take care of themselves in the bathroom. 
The WL1 Bidet Toilet Lift from Dignity Lifts will allow you to stay in your home longer and improve your quality of life while you're there. 
Design
The WL1 spans four feet across, so you can be assured that it's sturdy and won't fall over. A warning alarm is built into the handlebars so you can alert someone if you're ever needing assistance while using the lift. 
Despite the wider footprint, the WL1 is still able to fit into most bathroom setups. 
If you have shelves or cabinets in very close proximity to your toilet, then you may not be able to install this bidet toilet lift. Make sure to measure the area to ensure that you'll be able to successfully install the Dignity Lifts toilet lift in your bathroom.
 There is also a 300lb weight limit, so be sure to know your current weight before ordering as well. 
Alarm
In case you're ever having an issue while using the WL1 Bidet Toilet Lift, an easy access alarm can be activated to let others know there's a problem.
You can see the red button on the handlebar controls below:
The alarm switch is located near the handlebar controls, so it's in a readily available space should any problem arise. Simply push the alarm button and it will send a loud signal to alert those around you that you need some help.  
The lift itself is controlled via an easy-to-use switch located on the handlebars. 
There's a simple up or down toggle mechanism allowing for ease of use for all users, no matter your level of motor skill or impairment.
Dignity Lifts - Bidet Toilet Lift -  WL1 Review
We hope you've enjoyed our review of the WL1 Bidet Toilet Lift from Dignity Lifts. Being able to maintain your independence and dignity in the bathroom are vital components to an overall quality of life. 
We think the WL1 is such an ingenious product that we rated it number one in our article about the best bidets for the handicapped. 
If you or a loved one are no longer able to stand up safely after using the bathroom and need a little extra help in maintaining their hygiene, this electric bidet toilet lift is the solution to all those problems. 
Dignity Lifts has been helping people in the bathroom for many years now and we're glad they've put a lot of thought and effort into making a product that can truly help so many people. 
If mobility is an issue but you don't think you need a built-in bidet seat, then the Dignity Lifts Deluxe Toilet Lift - DL1 would certainly be a worthy runner up choice in the toilet lift category. 
Let us know in the comments if you have any additional questions and we'll do our best to get them answered for you. As always, you can give us a call and we'd be happy to help you find the perfect bidet or toilet lift for your home. 
707-297-3991
Thanks and have a great bidet!