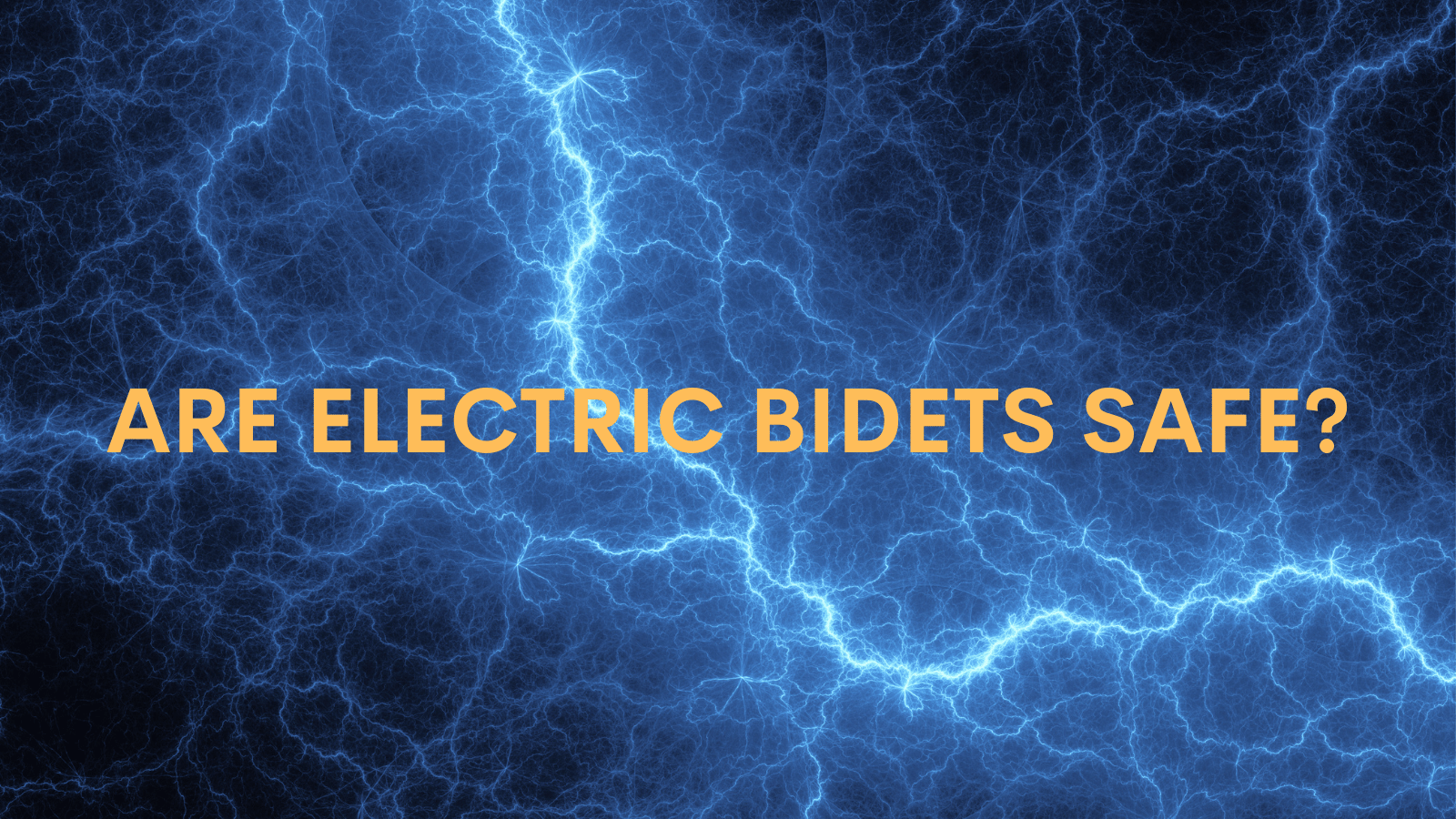 Are Electric Bidets Safe in 2023?
Water and electricity don't mix.
You may be wondering how safe it is to introduce an electrical appliance into an area where so much potential risk exists. Bidet seats, like hair dryers, electric shavers and other electric products used in the bathroom, can pose a potential hazard.
We aim to alleviate any concerns you may have by answering the question "Are electric bidets safe?"
We'll also help by providing all the info you need to know regarding bidets and electricity before you decide to purchase one. 
How Do Electric Bidets Work?
All bidets work by connecting to your toilet's main water supply and teeing off to the seat or attachment to provide a wash. Electric bidets work by also plugging into an electrical outlet. 
An electric bidet will come with an extension cord built in. The length of the cord is usually four feet. If your outlet is farther than four feet away, you will either need to use an additional extension cord or install a new outlet.  
Electricity and GFCI Outlets
Any electric appliance used in the bathroom must be plugged into an electrical outlet equipped with a ground fault circuit interrupter (GFCI). Electric bidets require a 3-prong outlet that is grounded and supplies at least 15 amps.
GFCI's will shut off electricity to an outlet when it detects an abnormal current. The GFCI is constantly monitoring the current flowing in and out of the circuit.
If the current flowing into the circuit varies from the returning current, even by a very small amount, the GFCI will instantly cut off power to the circuit and prevent an electric shock. These kinds of outlets have been mandatory in all bathrooms in the U.S. since 1975. 
Other areas in your home that are required to have GFCI outlets include:
Kitchens,

Laundry rooms

Garages

All outdoor outlets
For more information about GFCI, you can check out this Consumer Product Safety Commision (CSPC) article. 
How to Stay Safe Using Electric Bidets
In addition to making sure you have a safe outlet in your bathroom, you should make sure that your outlet is easily accessible and close enough to your toilet. 
You will want to avoid draping electrical cords across sinks, showers, or other areas where an outlet or extension cord could come into contact with water. 
So as long as you have an up-to-date, GFCI equipped outlet and you're not running an extension cord connection into a sink or a puddle of water, electric bidets are completely safe. You will just need to exercise a little bit of common sense and have all electrical work done by a professional. 
Electric Vs Non-Electric Bidets
When it comes to choosing a bidet for your bathroom, one major choice you'll have to make is whether you want electric or non-electric. 
Do bidet toilet seats need electricity? No not always. The Slim Zero from Bio Bidet is a bidet toilet seat that has the same look and provides a similar wash but is not electric. 

While non-electric bidet seats and attachments offer the same basic wash function as electric, they lack some of the most sought after features. 
Some essential features only found with electric bidets include:
While you can find non-electric bidet seats and attachments that offer warm water washes, these tend to involve running hoses from your bathroom sink to your toilet and require waiting for your hot water heater to slowly warm the water. 
If you are looking for instant warm water you will definitely need an electric bidet. For a selection of bidet seats that offer instant warm water you can click here.
Also, while we are on the topic of warm water, we wrote an article about this very topic and the different ways a bidet can warm your water. For more information about the choices you have when it comes to bidets that offer warm water, click here. 
Are There Battery Powered Bidets?
We occasionally get asked about whether there are battery powered bidet seats and the short answer is no. Unfortunately, bidets require too much power to be completely battery operated. 
There are some non-electric bidet seats, like the Slim Zero from Bio Bidet, however, that offer battery powered nightlights. So if that's a feature you're interested in, you're in luck! 
Slim Zero Non-Electric Bidet Seat
Although this non-electric bidet seat does have a feature that's battery powered, there are no electric bidets that are fully powered by batteries alone. 
How Much Electricity Does a Bidet Use?
Since bidets are not being used constantly throughout the day, the overall amount of electricity used is very low. By using "eco mode" on some models, you can limit the amount of electricity used even further. 
Tankless bidets that offer instant warm water will draw a maximum of 1400W when in active use, while tank-type bidet seats draw 600W at most. Tank-type will use more electricity overall though, as the water in the tank is being constantly heated inbetween use.
Warm hair dryers use around 1500-2000W in comparison. Other household appliances like microwaves, dishwashers and refirgeraters use far more elctricicty than a bidet ever will. 
Conclusion
We hope we've been able to answer any and all questions you may have regarding bidets and electricity. Electric bidets are a safe, effective and energy efficient way to provide increased hygiene and relieve symptoms of over-wiping with toilet paper. 
If you have any additional questions regarding bidets and electricicty, feel free to contact us or post a question in the comments section below! We would love to hear from you and help you achieve the ultimate clean.